Otis Cutler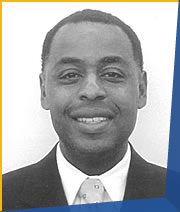 Rev. Dr. Otis Wallace Cutler, Jr., transitioned Friday, January 19, 2018 at Howard County General Hospital in Columbia, Maryland.

Otis had a unique and diverse background, which afforded him an innovative approach to governmental relations, coalition building and creating business funding opportunities.

Otis was a graduate of Morgan State University where he earned a B.S. in Philosophy with a concentration in Religious Studies. In addition, he graduated from Morgan with departmental honors. Otis also received a Master's Degree in Religious Studies from The Howard University School of Divinity in Religious Studies and was pursuing a doctoral degree in Leadership from Wesley Theological Seminary.

Some of the high profile issues that Mr. Cutler collaborated on were issues such as the Death Penalty, Lead Paint and Gun Law Revisions. In addition, he brought a plethora of experience from the mortgage industry, real estate development and community organizing.

Otis was an ordained minister, a member of Kappa Alpha Psi Fraternity Inc., and had also served in the United States Marine Corps, where he was a member of the distinguished Color Guard detail.